April – June 2023
The Project WakeDay team has been making great progress toward the implementation of Workday Student, the University's new Student Information System, which will replace Banner Ellucian and its many associated platforms.
The Team held numerous in-depth conversations with our community members across many departments. Additionally, several members joined the project team:
Jacqueline A. Travisano, Ed.D., the University's new executive vice president and chief financial officer, will serve as a co-sponsor of Project WakeDay with Provost Michele Gillespie.
Tom Benza, director of enrollment, now serves as the functional lead for financial aid.
Sheena Ramirez, senior associate dean of enrollment, is the functional lead for admissions.
Jonica Burke joined the Project Management Office as project director.
"As I follow the progress of Project WakeDay, it's so encouraging to see dedicated colleagues coming together to work through complex technical topics and make values-based decisions that will move Wake Forest forward," says Provost Michele Gillespie. "Workday Student will give us increased access to important, live data and flexible tools that will better support the University's academic mission and ultimately help us support our students' academic success. I appreciate everyone's serious commitment to this work and look forward to seeing even more community members take part in training and events this fall."
Project Status
The architecture and configuration portion of Project WakeDay is now 75 percent complete and on track with expectations.
Throughout Quarter 2, the team supported design sessions for all functional areas: admissions, financial aid, advising and curriculum, student financials, student records and technical. Visit the Project Leadership page of the Project WakeDay website for a list of the Workstream Leads who are guiding work through each functional area. The technical team also successfully added several integrations, including Follett, StarRez and Leepfrog, which are ready for testing this summer. Overall, work focused on academics and working through core processes of what we do on campus.
The Project Management Office and the Workstream Leads for Student Records and Advising and Curriculum presented the first Customer Confirmation Session about Workday Student's Academic Foundation to deans, associate deans and members of the Steering Committee.
Michael Moore (Senior Associate University Registrar and the project's Student Records lead) offered an explanation of Workday's organizational hierarchy for Academic Levels, Units and Programs of Study.
Trey Frye (Law School Registrar and a project co-lead for Advising and Curriculum) focused on eligibility rules and curriculum wins.
An informational video on this topic for all University members is planned for late summer. Watch for the link in The Word on WakeDay newsletter (subscribe here) and bookmark the new Project WakeDay video channel on Kaltura. (Your Wake Forest login credentials may be required.)
Significant progress was made on reporting, with team members gathering needs from a variety of campus constituents to identify what data they use and how they use it for both operational and functional purposes.
Workday functionality will allow Wake Forest to streamline reporting, reducing the overall number of reports and meeting data needs with greater detail. One report in Workday can consistently and securely provide access to live data across multiple areas.
The reporting team also shares that report designs have become more efficient and sophisticated, in some instances creating Banner-like processes within Workday that were initially not possible at the start of implementation.
The implementation team started testing in earnest ahead of the first launch date — Oct. 9 — for academic programs, courses and calendars. The first launch will affect mostly back-office operations and the Office of the Registrar.
As a reminder, rather than launching all on one date, functions will be built and launched throughout 2023-24. This timeline shows when specific activities by faculty, staff and students will take place in Workday Student: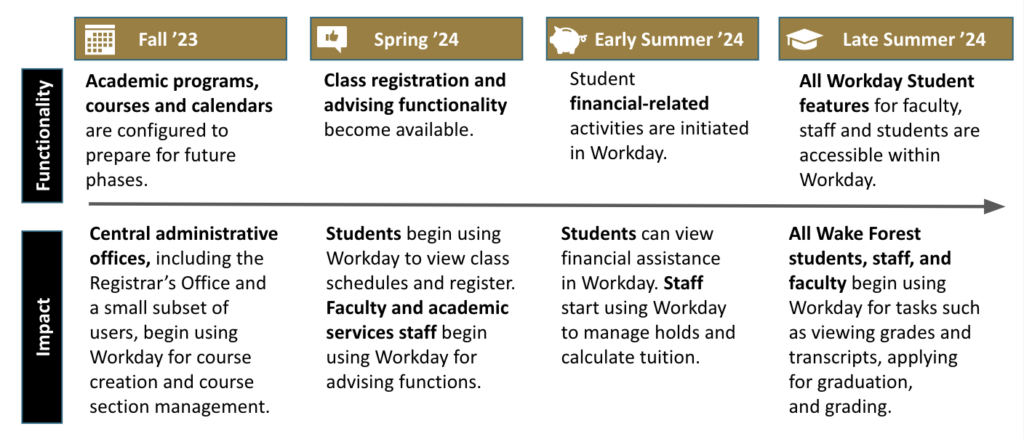 Campus Engagement
Project WakeDay continues to partner with a variety of campus stakeholders who make up the change networks. These networks are composed of faculty, staff and students divided into three advisory groups: a Staff Change Network; a Faculty Advisory Panel; and a Student Change Network launching in Fall 2023. Additionally, the Change Management team has been meeting regularly this summer with Academic Coordinators.
In April, Change Management (CM) held the first of seven Readiness Sessions with the Staff Change Network. The session focused on Workday Student terminology, as well as navigation and search functionality. (You can find videos about the Basics of Navigation and Global Search at this link.) Attendees shared they're finding that Workday will be more self-service than what the University offers now, and that having a similar user experience as students will be helpful when supporting them.
In early June, CM shared a high-level training timeline (which you can find on the Project WakeDay website homepage) and a list of expected training topics for the first MTP (Move to Production), which is mostly related to the University's central administration office. Additionally, there was a demo of Workday's Student Profile, sharing what staff see in Banner now and how that might change/look in the new system.
In late June, CM reviewed change impacts from Workset B with the network — both the wins and challenges — and shared how staff members may be affected. (More information on these wins and challenges is outlined below in this update.) The project is also broken into Worksets A, B, C and D, with each workset building upon the previous version. To date, Project WakeDay has completed Worksets A, B and C.
In early May, Change Management held the final Faculty Advisory Panel meeting of the academic year, led by Associate Provost Anne Hardcastle. This group will pick back up in the fall semester. The May presentation offered an introduction to dashboards:
Huron, Wake Forest's implementation partner, will deliver one dashboard for faculty instruction and one for advising activities. (If you're a faculty member who serves in both roles, you'll have access to both types of dashboards.)
Dashboards aggregate information to help you prioritize work. At their core, they're a centralized view into a high volume of information. They're basically landing pages for users to quickly view common reports, access tasks, find external links, and read important announcements.
They are used across Workday, including Student, HR and financial instances.
They can be automatically assigned to roles based on your security group, and the University's goal is to standardize their presentation, following the Guiding Principle of One Wake Forest.
This quarter, the Project WakeDay team began working closely with academic coordinators, familiarizing them with Workday Student functionality. Academic Coordinators (ACs) are staff who work within the University's academic departments, assisting program directors and academic chairs, organizing and coordinating departmental administrative functions, and responding to administrative needs of faculty members.
At the first meeting in May, the Change Management team provided an introduction to Workday Student, as well as a demonstration of basic navigation and search functionality.
In early June, Change Management invited Trey Frye, who co-leads the Advising and Curriculum areas of the project, to present a deeper dive into Workday's student profile.
Also in June, Beth Hoagland (Senior Assistant Provost, Budget and Administration, and Overall Functional Lead on project), Tracy Mills-Howell (Senior Learning Specialist and Training Lead on project) and Maria Murphy (Huron Communications and CM Support) met with ACs to review responses to a survey delivered in mid-spring and to build a joint understanding of:
Training topics needed for the AC community;
How ACs support faculty and students in engaging with the current Student Information System to inform what Workday training and reference materials will be needed;
And the variability across AC roles based on school, department and unit.
Wins, Challenges for Functional Areas
Project WakeDay's functional areas include Admissions, Financial Aid, Advising and Curriculum, Student Financials, Student Records and Technical.
To support the configuration for each of these areas in Workday Student, the University identified a group of experienced Workstream Team Leads to join the project. (Find a list of them on the Project Leadership webpage.) Their expertise provides guidance that focuses specifically on Wake Forest needs as the design team works to switch the current SIS from Banner Ellucian — and its many associated platforms — to Workday Student, a single unified system.
Additionally, members of the Change Management (CM) team attend these work sessions with the Workstream Team Leads and team members from Huron, the University's implementation partner. CM listens closely to capture expected changes, including who will be affected and how, and then they evaluate the impacts of these changes and determine the best way to share them with the campus community. High-level topics discussed in Quarter 2 included:
Advising
Student Financials
Student Core
Student Records
Curriculum Management
Financial Aid
Wins
Slate Inbound Integration: While all schools are in Slate, some schools still enter students into Banner manually. Workday Student completely eliminates this manual process.
Military Statuses: Processing awarding for veteran financial aid benefits will be streamlined. Going forward, military statuses will be applied to the student record through an integration with Slate and will be immediately visible on a student's profile. Financial Aid and HCM collaborated on a solution using statuses benefiting both areas.
Student Citizenship and VISA Statuses: Citizenship and VISA Status will also be applied to the student record through an integration with Slate. This will result in more accurate data; it will eliminate a manual process; and it will allow for earlier awareness for VISA processing.
Wins
Anticipated Aid: Today, manual work ensures that anticipated aid remains on the student account post-anticipated disbursement dates. Students will not perceive a difference, but moving to Workday reduces administrative burden by removing the manual process.
Payment Precedent Groups and Awarding: Application of Payments rules in Workday will ensure that scholarship funds are aligned with specific charge items. This will foster donor confidence and be a win for departments as they can both be ensured that scholarship funds are applied as intended.
Typical Attendance Plans: Workday Attendance Plans will allow the University to more accurately anticipate load status for a given semester based on a program-of-study progression. This means less manual work to create student cost-of-attendance for any given semester. It also reduces the potential for over-refunding.
Wins
Student Support Network: Students will have a clear support network where each advisor is listed with an advisor type – e.g., major, minor, athletic, international, ROTC, etc. This will be beneficial to both students and advisors given the increased visibility and clarity.
Advising Notes: Advisors will be able to create public and private notes that live on a student's academic record. Students can view public notes but not private notes. Any note entered by an advisor is also visible to future advisors.
Curriculum Management Flexibility / Cross-listed and Co-located Courses: Today there is no formal cross-listing setup in the system, but rather the cross-listing experience is manually processed. In Workday, there will be greater flexibility for how Wake Forest can manage curriculum.
Courses that are officially cross-listed in the bulletin can now share one course definition, and departments can determine if they want to offer one joint section with a dual naming convention or separate sections.
Courses can also be co-located, offering a similar joint-section experience with separate course definitions. Overall, this provides Wake Forest with more tools in managing the curriculum than are available in Banner.
Challenges
Visibility of Previous Advisee Records: FERPA guidelines require an educational "need to know." In Workday, advisors will not have access to advisee information past the advising relationship. A form will be available to request this access if there is a circumstance where faculty or staff need to see prior advisee details — such as when writing a letter of recommendation. The Office of the Registrar can help with these steps.
Wins
No More Paper Monthly Statements: The future state will allow students (and authorized third parties) to access and generate student statements as needed. This will provide students with a more accurate billing experience as bills will no longer be a snapshot in time but will show real-time billing transactions.
Student Statement Generation: Students statements will be generated out of Workday. This will be a transition from Nelnet. This will be an improvement for staff and students as there will be fewer errors in bill publishing related to special characters in names and addresses.
Credit Management: In Banner there is a process to extend credit to a student when they are waiting for a payment or company benefits to pay for their education. In Workday, the credit will be managed through a sponsored contract. There should be no visible change to the student experience.
Past Due Holds: Today, the hold processor in Banner is clunky and students are often confused about the details of their holds, and communications about holds must happen outside of the system. In Workday, there is increased visibility and students can easily find both the reasons for a hold and the instructions for resolution. Communications can also be pre-set and sent to notify students of holds.
Summer Tuition Management: In Workday, the University will use course fees for summer tuition. Course fees allow for charges to be assessed on the course section for the term. Classes taught in different parts of the term will have course fees that are associated with different charge items. Student Financial Services will pull reports on the charge items to identify those that should be moved to deferred revenue for summer. This will provide a better financial forecasting experience given that funds will be automatically aligned with the appropriate part of term and fiscal year.
Wins
Student Personal information: Students will have more agency over the personal information they wish to share with the University and greater ability to recognize their identities and preferences, such as preferred name, gender, pronoun and sexual orientation.
Preferred Names: Students' preferred name and pronoun will be default across the system, allowing faculty to recognize students based on their preferences.
Emergency Contact Information: Students will go through an onboarding process requiring them to provide an emergency contact. This puts Wake Forest in a better place than today in terms of preparedness for any potential crisis.
Student Profile: All student information will be found on the student profile, whereas today, staff rely on WIN services and a variety of other tools to find the same information.
Challenges
Grade Visibility: In Workday, as soon as a grade is entered, it will be visible to the student. It is strongly recommended that faculty send out course evaluations prior to final exams so that they're complete before grades are entered.
What's Next for Project WakeDay?
At the end of June, Huron completed the fourth tenant (for the final Workset D), which Wake Forest started validating in July. Workset D focuses on integrations, reports, finalizing security and such additional records items as academic standing, transcripts, honors and program completion.
This fall, the Project WakeDay team will more formally introduce Workday Student to the broader campus community through a series of preview events for faculty, staff and students to learn what's changing and to get an early peek into the system before training starts. Invitations and information will be published ahead of each event. Watch for more details on the Project WakeDay website, in future issues of The Word on WakeDay and in your departmental publications.
The Project WakeDay website, The Word on WakeDay newsletter and other project communications are managed by Communications Specialist Abby Langston. For more information about this update or how to get Workday information for your campus communication or department, contact her at langsta@wfu.edu. You can also share feedback using this form or via the project email, WakeDay@wfu.edu.
Related Articles: